I'm in my basement next to the wood stove with sweet Petunia lying on a horse blanket by my side. She's been sickish on and off for the last three months but it seems to have come to a head this week. She hasn't eaten anything for days and is now quietly moaning. She doesn't want to leave the fireside and although she's clearly not well, at least she doesn't seem to be in terrible pain. The vet is coming this afternoon and we will bid farewell to our beautiful, beloved herd queen. She was the first goat born on our place in 2013 and has given us eight beautiful kids, including my amazing Sputnik. Sputnik inherited his brains from his clever little mother, who still remembered all her tricks perfectly last week even though I hadn't asked her to do them more than 2-3 times in the last five years. Last week she was feeling well and I thought she was on the upswing, but it seems now as though it was her last kick before she slid downhill fast. At only six years old, I thought she had many more years of raising kids and making sweet, creamy wintertime milk for us. We have no idea what's wrong. Her temperature has been low a lot and she has a somewhat low white blood cell count, which is very odd. Other than that her bloodwork came back normal, and there are no parasites. There's obviously no hidden infection. She just faded away and we don't know why. When the vet comes she is going to look for internal tumors or a foreign body in the rumen. Those are about the only things we can think of that would cause this unexplained illness.
We will sorely miss our "Pretty Pet". She's been a fantastic herd queen and was always the best mother in our herd, looking after not only her own kids but also other does' kids. When Pet didn't have kids of her own, she was the "cool aunt" who hung out and played with all the babies. She was a fantastic milker who gave an abundance of delicious, creamy milk all winter. I've made a lot of ice cream from her milk over the years. I'm going to miss her white face with the lopsided black spots, her magnificent flying ears, her sweet little heart-shaped nose, and her bossy, take-charge attitude. Petunia had a tendency, when she got loose in the basement, of rampaging around and tearing into every box, bag, and bucket in her quest for food. Until these last few months, Petunia was the last goat to ever miss a meal.  
Petunia with her mother, Lilly, enjoying her first day in the Wide World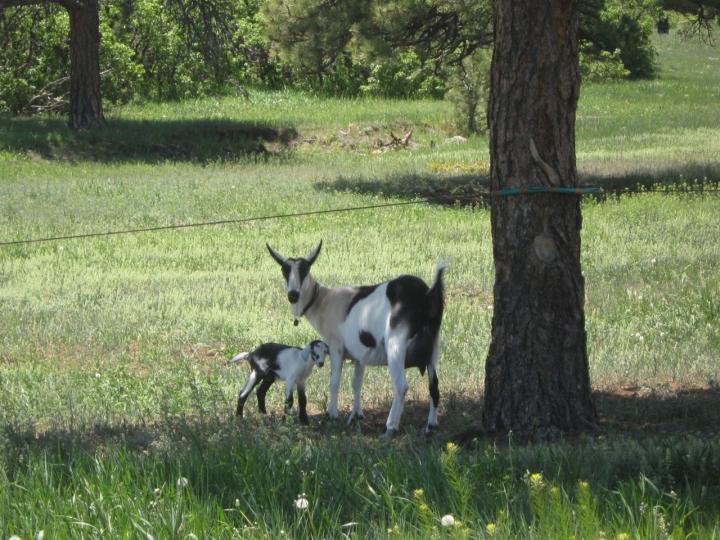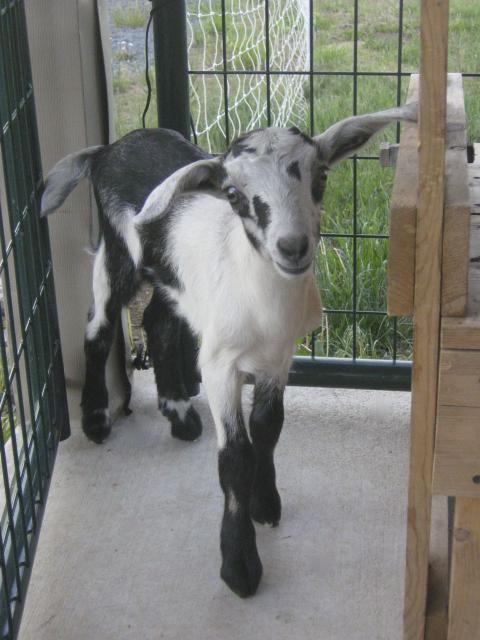 "May I have this dance?"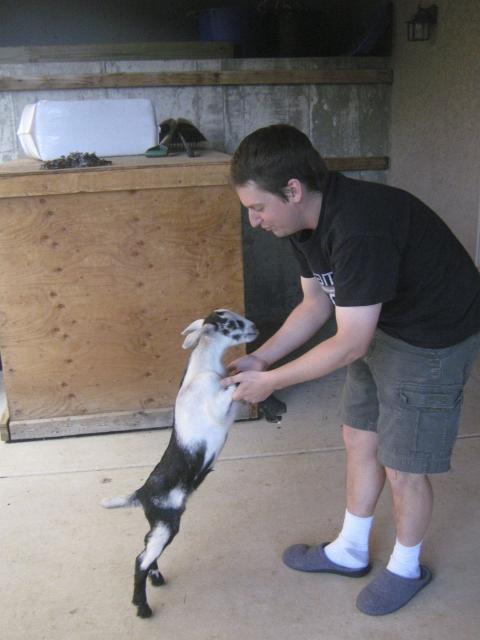 Ears a mile wide.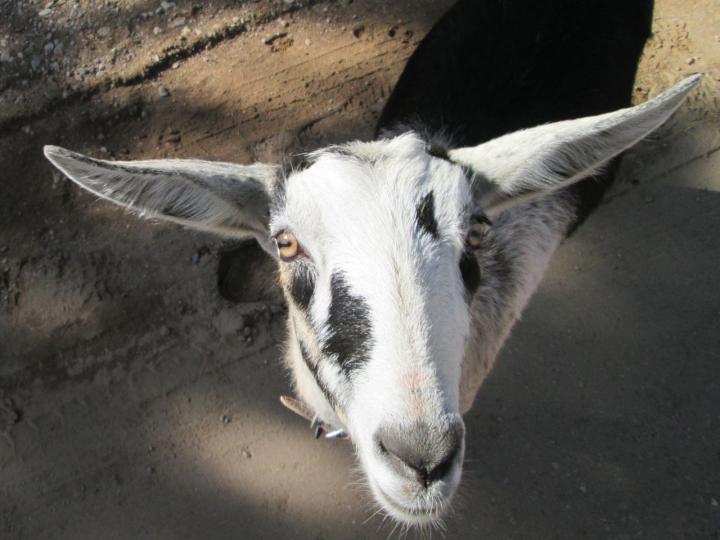 Goblin Valley in fall 2013.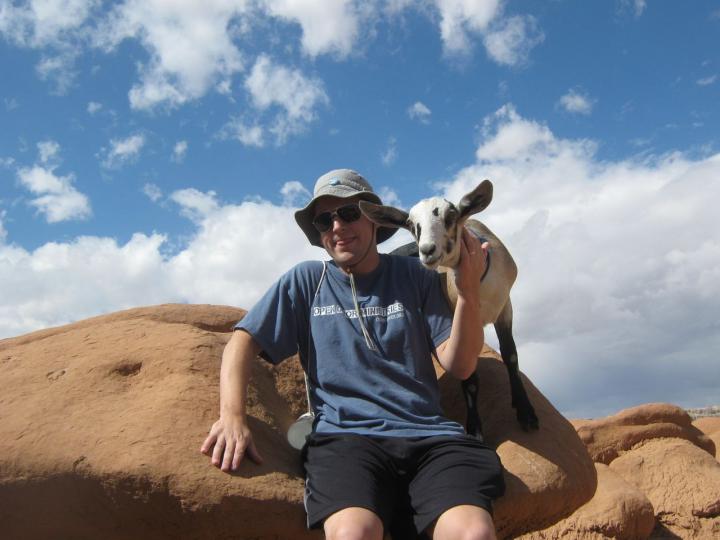 Petunia proudly pregnant the day before her first kids arrived.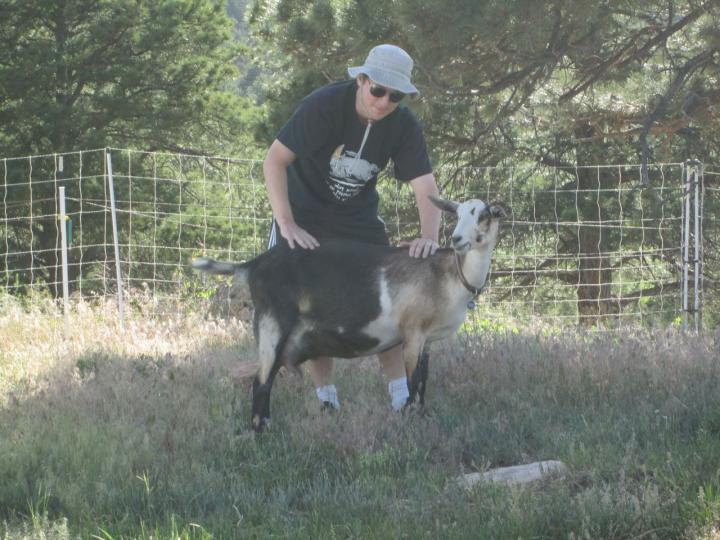 Snickers and Sputnik.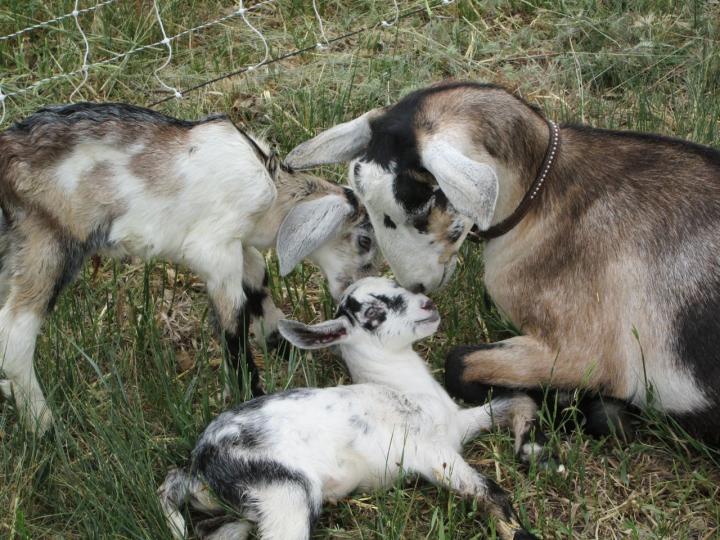 Babysitting Nubbin's kids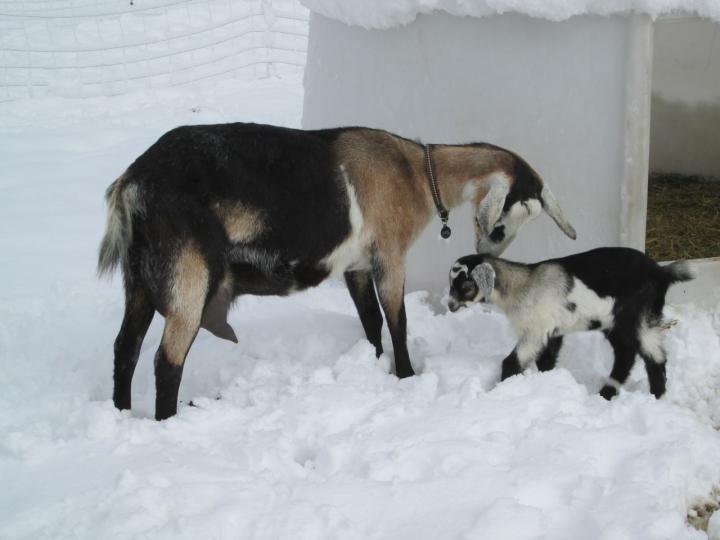 Petunia with her last babies.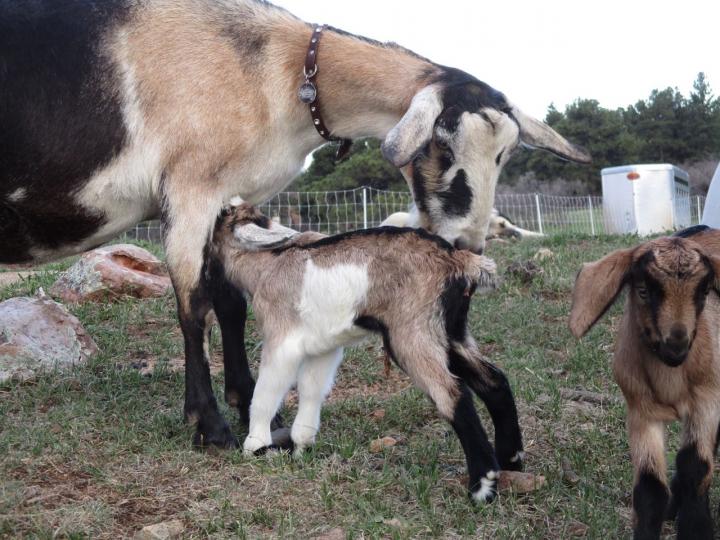 Best tail ever.