What a wonderful time I just had visiting Cuzco, his people and his herd!  He rules the roost with a firm hoof in spite of Nan and her squirt gun!
Their farm is eye candy for humans.  Their beautiful home sits atop a hill and has 360* views of the mountain, lush grassy meadows, a pond, pines and scrub oak.  If I was reincarnated as a goat I would definitely want to live with them!
I arrived mid afternoon and they immediately put my rental car in their garage so the goats wouldn't enjoy checking it out.  We spent awhile talking, laughing and playing with the goats.  For dinner Phil (with Cuzco's help) built a campfire.  We roasted hot dogs and ate s' mores.  After dinner Phil played his fiddle (with Cuzco's help).  He is a really talented fiddler.  It was such a wonderful time!
Cuzco loves buns so I broke off a small piece of my hot dog bun and offered it to him.  He said, "No.  I only eat whole buns.  How dare you offer ME a piece of one?"  Nan offered him 1/2 of a Hershey's candy bar when she was done eating her s' mores.  What a hoot!  He's definitely a chocolaholic!
Phil left to go play board games at the local church.  It's a regular Thursday night event.  Nan and I talked with lots of giggling interspersing our conversation.  I think we solved all of the world problems!  Of course there was also a lot of "goat" conversation, too.  Nan made chocolate chip mint goat milk ice cream while we were talking.  All was well until she went looking for the bag of chocolate chips.  There wasn't one anywhere.  Phil is a chocolate-chip-aholic and hadn't mentioned they were out of them because he is trying to break the habit.  I wonder if that's where Cuzco learned his love of chocolate?! Nan found a partial bag of mini chocolate chips so used those.  I have never had goat milk ice cream before.  I'm hooked!  It was delicious!  
I discovered during my visit that Cuzco definitely has an opinion about everything.  When I was first introduced he came up to me, his hackles partly up, to check me out.  I began giving him some good scratches and he seemed to be enjoying - then all of a sudden his demeanor changed and he made a grumbling noise.  Nan scolded him and told him to behave.  Cuzco tells you when he wants on the porch, when he wants attention, when he wants fed, etc. and he would rather suffer through the squirt gun than back off very far when it comes to buns and chocolate!  He strikes poses for the camera and even when he's just standing around he always looks like he's posing!  He's all Nan and Phil have told us about and more!  Cuzco is a legend.
I had fun watching Nan put the goats through some of their tricks.  It's obvious the entire herd adores Nan and Phil, want to please them and have had a lot of time spent with them.
We had a fantastic 360* lightening storm followed by a high winds and driving rain and more lightening in the evening.  It was spectacular!  I'm sure the goats were glad they were safe and sound in their electric netting enclosures and dome houses.
The next morning we enjoyed a delicious breakfast and then Nan showed me the Sopris halters she uses.  I need to order them for my 4 boys.  I like the way they fit without bulging.
I was glad I got to meet Cuzco in person after reading about him.  Nan wants to keep their herd at around 12.  If I lived closer I'd be sorely tempted to buy Sledge, Hammer and Snickers.  They are very promising packgoat prospects.  I'd buy Pac-Man, too!   He is so loving and will make an excellent cart goat for some very lucky family.
It was hard to say goodbye to Nan, Phil and their herd.  It was fun to go from "computer" friends to "real" friends.
When we opened the garage door for me to leave all of the goats were gathered next to the garage like a group seeing off a newly married couple!  I'll definitely visit again.
Here are two views from Nan and Phil's porch.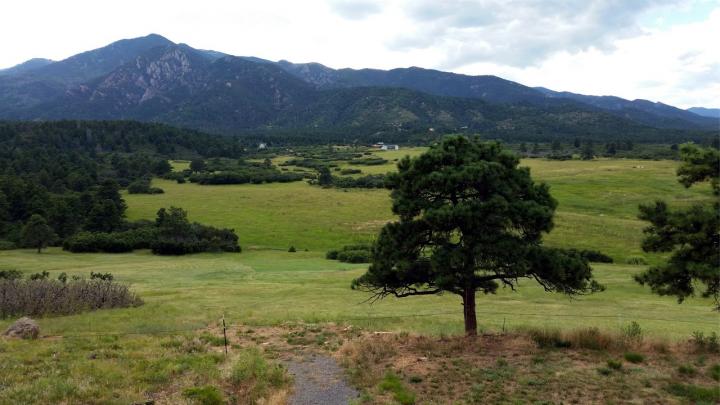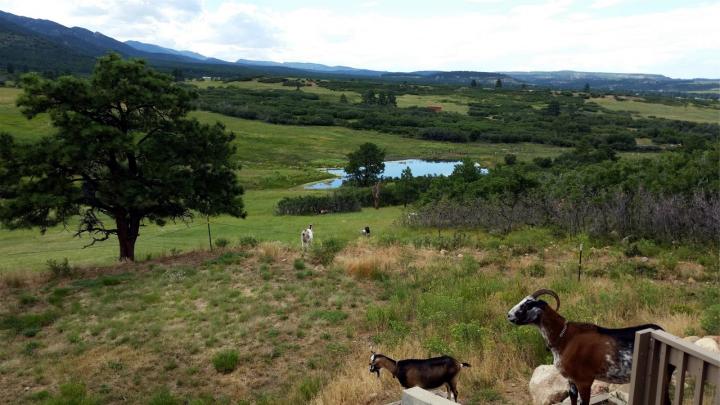 Cuzco "helping" Phil get the campfire going.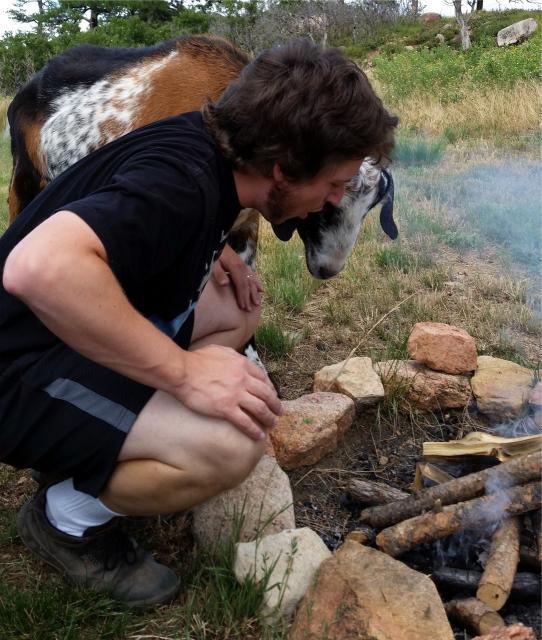 Cuzco "helping" Phil play the fiddle.  He wanted to mouth the bow!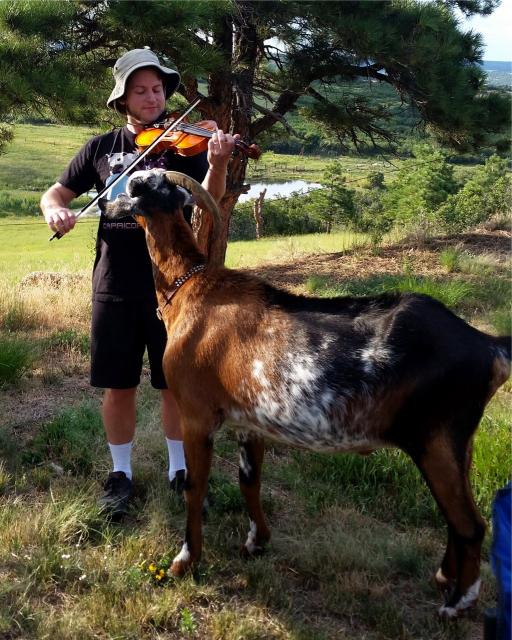 This series of 3 photos shows Cuzco eyeing Nan's hot dog bun.  When he got too close he was squirted (2nd photo) and yet as you see in the 3rd photo - he was right back again!  He's persistent!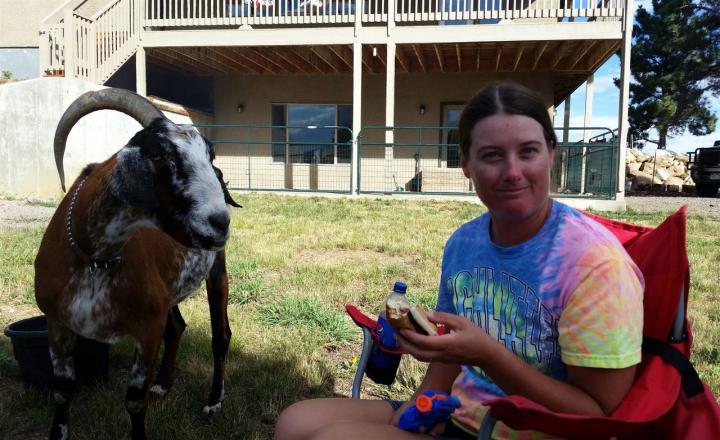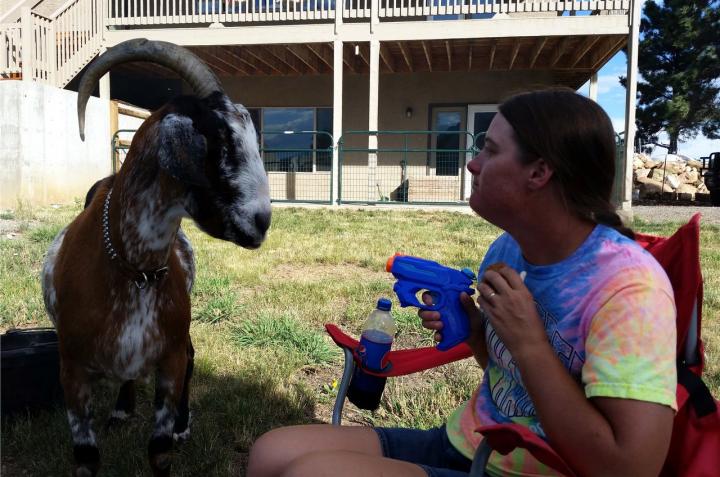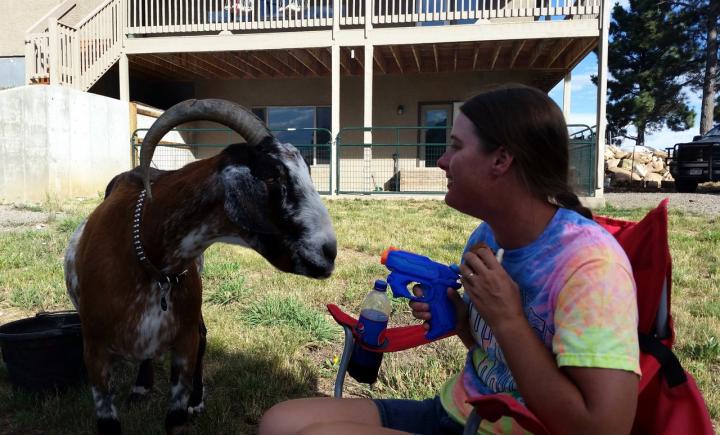 These two photos show Nan offering Cuzco half of a Hershey's chocolate bar.  Goats have been so popular in advertising lately I'll bet the Hershey's company would love to use these photos to show even goats love their chocolate!  Nan got a kiss as Cuzco took the chocolate from her.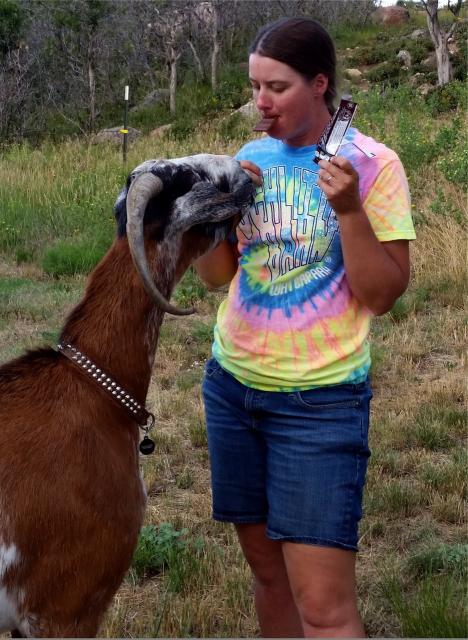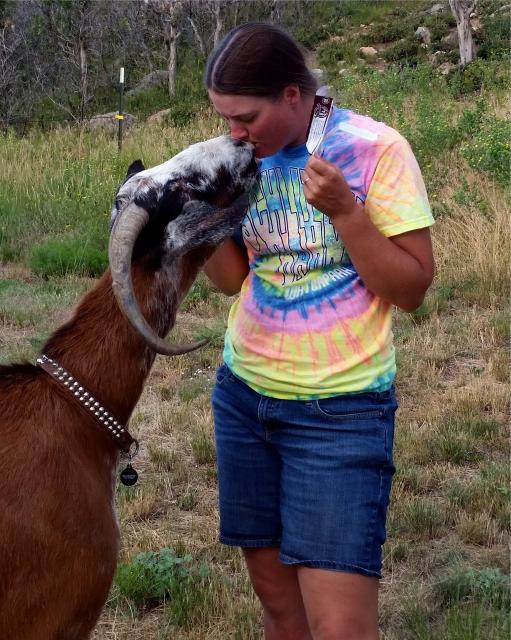 Goatberries Happen!