I've already posted about the first half of our annual "goat vacation" where we joined Herb, Taffy, Eldon and Debbie, and Robert and Connie for a grand tour of the San Rafael Swell area. But after the Swell, Phil and I headed south to Escalante where we spent another week in Utah. 
After Little Wild Horse and Bell Canyons, we packed up the boys and headed to Escalante. The drive along Highway 12 is always stunning. We were about fifteen miles outside of Escalante when I spotted a cyclist along one of the curves. I recognized the floppy white fisherman's hat and white tank top immediately. It was Matt! Phil was riding shotgun and he rolled down the window, waved, and shouted "Hey, man! See you in Escalante!" Matt shouted, laughed, and waved back at us as we drove past.  
Phil and I settled into our room at the familiar and wonderful Rainbow Country B & B where we have stayed on all our trips to Escalante. We unpacked and then walked into town with our goats so we could eat at our favorite little outdoor restaurant called Nemo's. We were just crossing the street when we spotted a white shirt, tan skin, and black hair. A bike was leaning against the fence. It was Matt! We offered to buy him dinner, but he had already eaten so we treated him to ice cream. We all sat and chatted while Phil and I ate dinner. We were able to snag a quick photo before Matt headed out. He had to find public land before dark because, as he said, "If you sleep on public land you're an adventurer, but if you sleep on a park bench you're a vagrant."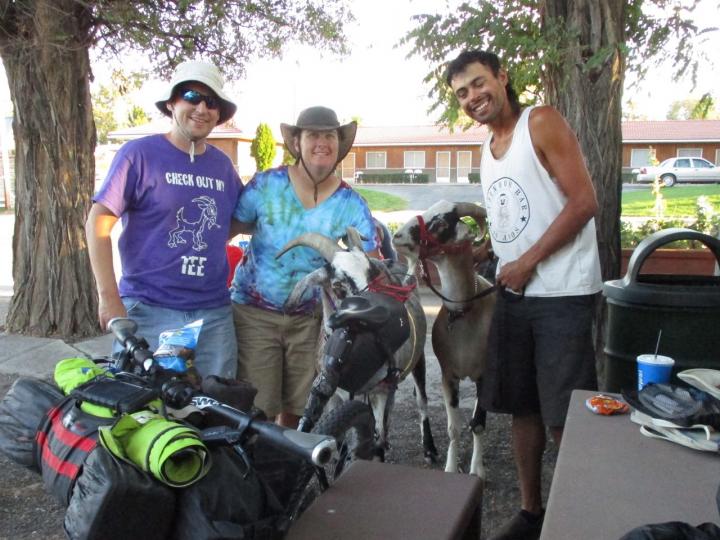 Thankfully Escalante is mostly public land, so I'm sure he didn't have to ride far to find somewhere to sleep. He was headed for the most difficult portion of his trip across the Navajo Nation where water and food are scarce and very far between. We wish him all the best and we hope that by now he's made it to Mexico.