photo 1 (9).JPG
(Size: 48.88 KB / Downloads: 60)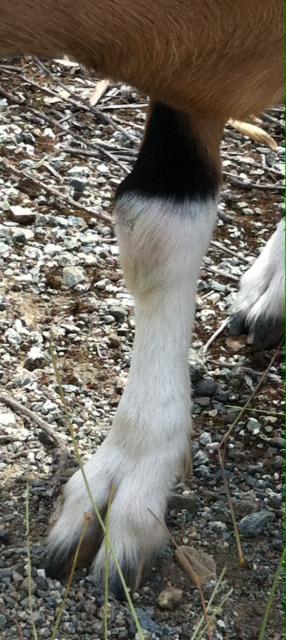 Noticed this just over a week ago on my two year old. Thought he might have just injured it or twisted it since they are pretty rough on each other sometimes with the horns. He never limped at all though, doesn't favor it, in fact it doesn't seem to bother him in any way. It was soft and squishy, fluidy. Now it's a bit firmer. He still doesn't favor it or anything. In fact it's hard to keep him still (he's my most hyper-active goat). The other knee is fine.
My goat vet is and hour and a half drive away and I worked all last week, but I'll finally be able to take him in to the vet on Wednesday. I doubt it's CAE since he's from a closed herd, but having him tested anyways, and my other ones (the one I tested when he was little and was negative, and the other one I was told was also from a negative herd). Anyhow, I'm not freaking out exactly, but I am really worried about him, especially since I'm leaving for two months and someone else will be caring for the three of them. I have been battling lice, treated them and the environment with three different things and they still seem itchy (although not as bad). Could mites or lice cause some kind of auto-immune reaction?
Anyone ever seen anything like this? It's looks so bad!!! Ok, yes, I'm freaking out. Although he is my most obnoxious goat, he's also one of my favorites.

Worried...
*Saltlick*  Rancho Topaz   
near Topaz Lake, Nevada