Last week, we made our annual trip to Hells Canyon, and we were lucky enough to be joined by Harriet Aiken and her 4 goats.

IMG_1403.jpg
(Size: 100.65 KB / Downloads: 94)
We left the Pittsburg Landing trailhead on a warm March morning. Six miles later, we arrived at Kirkwood Ranch, in the Hells Canyon National Recreation Area.

IMG_1408.jpg
(Size: 94.18 KB / Downloads: 92)
We had the camping area virtually to ourselves, a nice surprise for this time of year, as it is a popular low-elevation destination for hikers.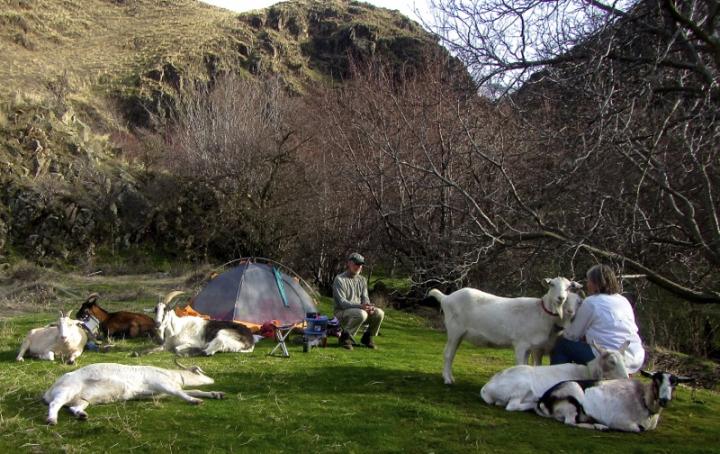 The following day, we did a day hike around Suicide Point, out to Big Bar and back, a round trip of about 8 miles.

IMG_1434.jpg
(Size: 67.6 KB / Downloads: 93)
We hiked out the final day.

Goats on Trail 2015.jpg
(Size: 69.47 KB / Downloads: 92)
Most of the vegetation along the Snake River (including the ubiquitous poison ivy) hadn't leafed out yet, but the goats managed to find enough grass to nibble on.
None of our goats have begun shedding their winter coats yet, so there was plenty of panting going on, despite the relatively mild temperatures (highs in the low 70s). Luckily there were several streams for them to drink from along the trail.

Goats Drink 2015.jpg
(Size: 102.95 KB / Downloads: 92)
We gave everybody a few breaks to enjoy the views from various precipices in this vast, ruggedly steep country.

IMG_1473.jpg
(Size: 65.98 KB / Downloads: 92)
Tallies for the trip-- nights on the trail: 2. Rattlesnake sightings: 0. Tick sightings: 1. Butting contests: 2 (each instance ending in the instigator having a "time-out"). Final outcome: lovely company, a great "shakedown cruise" and an excellent start to the 2015 backpacking season!