A lot of the Washington high county still has snow.  But I've found some good lower elevation trails to get my goats out on for some packing.
About two weeks ago I did 5 days of packing with 4 of my goats:  Grant, Albert, Bryce and Benson.  Grant and Albert have pack for a couple of years.  Bryce and Benson are now 3 years old; and this is their first year of packing.
First, I took them on an overnight hike on the Cedar Creek trail which is located off highway 20, the North Cascades highway, a ways west of Mazama.
It was around noon with temperatures in the mid to upper 70's F when we started.  We went about 4 ¼ miles in, to a meadow area with a side path to the creek and camp sites.  There is a nice grove of aspen near the meadow.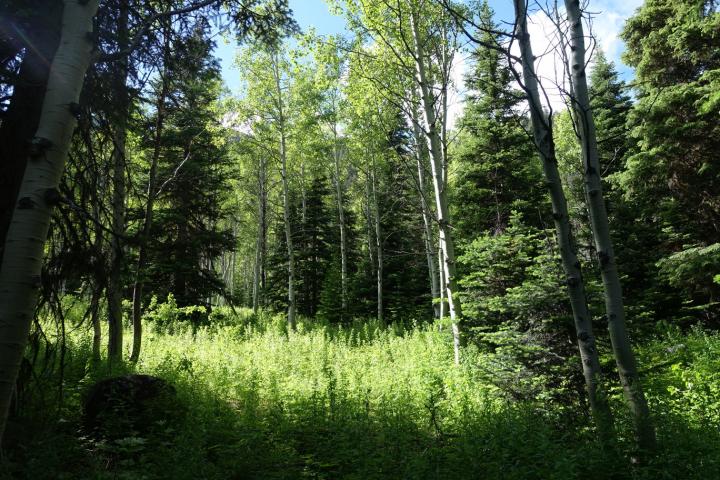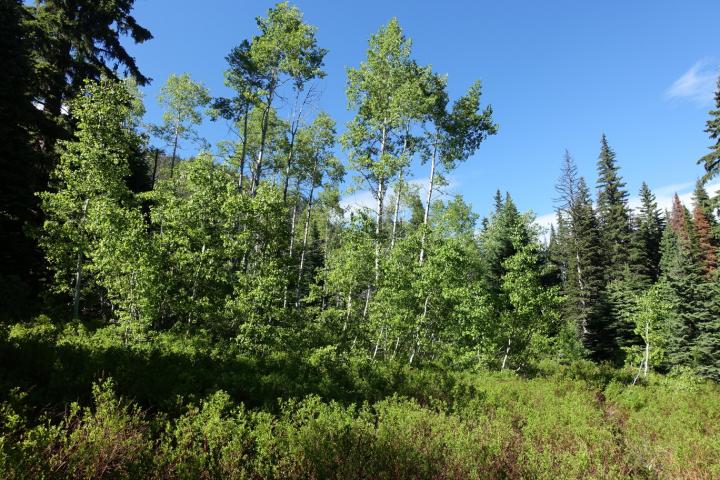 The first part of the trail is in pretty good shape.  At about 2 miles it seemed to get brushier and rockier. 
At 3 miles from the TH, there were a couple of logs across the trail which with a little branch trimming the goats could walk under.  There were perhaps a couple dozen additional logs from that point until the meadow – side path area.  Most were step-overs, another 1-2 duck-under and few walk-around.  No major difficulty.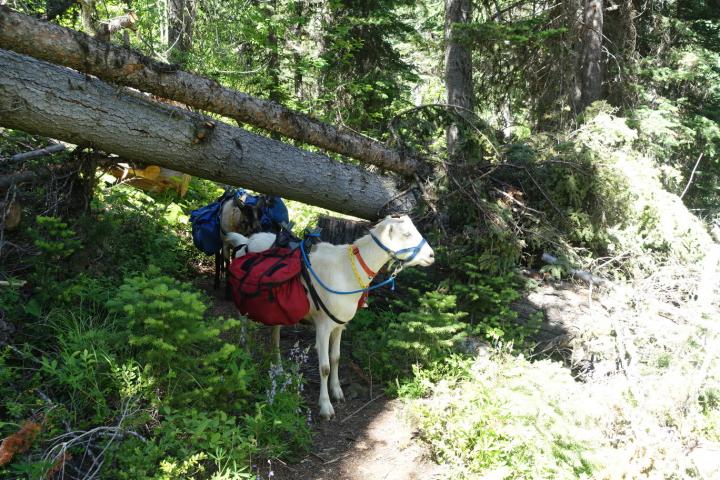 Overall, a nice hike and nice camp spot.
The next day, Tuesday, we hike back out, drove into Winthrop and then back west to Wolf creek TH.  It was again around noon with temperatures in the upper 70's F when we started out on the Wolf creek trail.
The trail is very nice a first, gradually heading down to Wolf creek…losing a couple hundred feet, which must be regained the last part of the hike coming out.
That afternoon we hike in about 2 ½ miles to North Fork Wolf creek.  There is a good foot log, with flat top spanning NF Wolf creek.  Heading in, on the east end the log sits on the ground with an angled log with steps cut into it beside it for stepping up unto the main log.    Grant was in the lead and followed me right across the log.  Albert was next and seems to prefer fording to walking logs.  When I looked back, Albert, Bryce and Benson were headed down the bank to the stream.  The bank is about 5 – 6 ft. high, moderately step and brushy, with some logs.  They made it down to the stream and forded it.  The stream was around 10" deep and 10 – 15 feet wide.  Albert and Bryce were able to get up the western bank.  Benson seemed stuck…not seeing a way to get up.  I went down, cut some branches and helped him a little.  Overall, it worked out fine.
We went about ½ mile further to a  nice camp area.
The next day, Wednesday, we headed on up the trail toward Gardner Meadows.  The trail was logged out for about 4 miles from the TH.  After that we started encountering logs across the trail.  Most were step overs, some easy, some not so easy for the goats.  I cut a number of the smaller logs that would have been problematic for the goats.  The goats did pretty well getting over most of the logs.  There were one or two duck-under situations.  There were several detour/walk around situations.  Overall, there were probably 2 - 3 dozen logs across the trial.  People were getting through fine.  With some cutting we made it without too much difficulty.
Some sections of the wolf Creek trail are nice, but there are also quite a few brushy sections.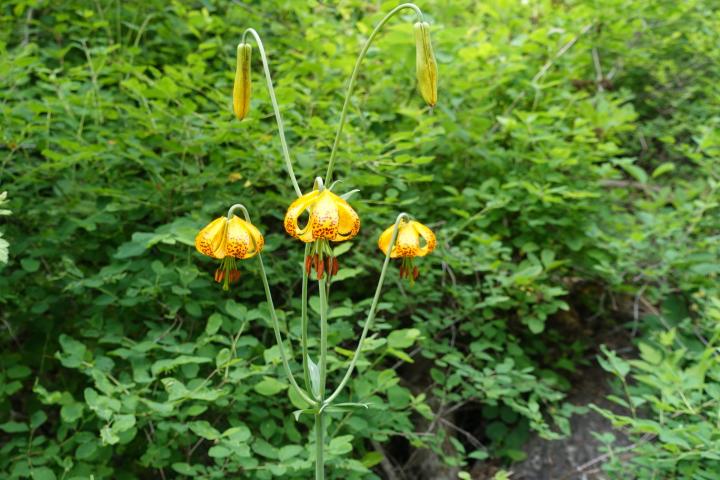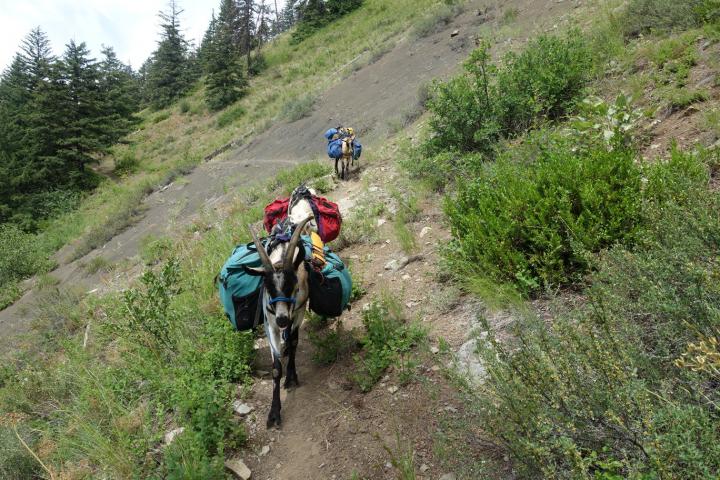 The trail goes about 10 ½ miles from the trailhead to Gardner Meadows.
About 8 ½ miles from the trailhead, the trail starts to break into a grassy hillside meadow.   There are patches of trees and a couple Aspen glens from there to Gardner Meadows.
Gardner meadows is a nice green meadow, some wildflowers, but not a lot.  It's a nice place to camp with several established camp sites. The mountainside going up toward North Gardner Mtn. area has a lot green meadow.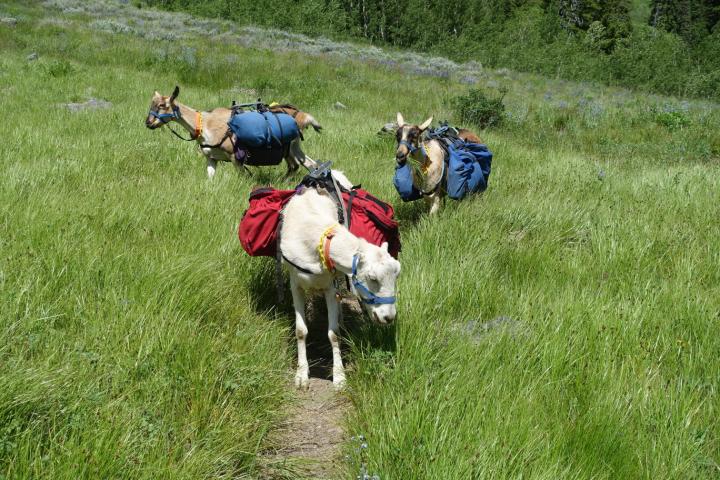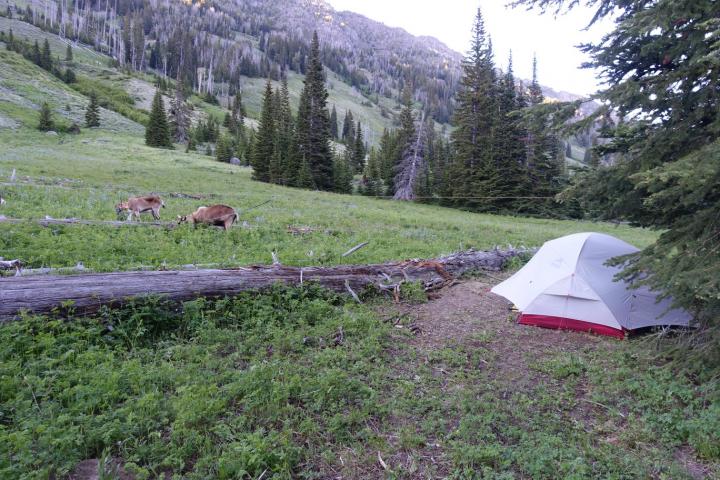 Thursday, we explored around the meadows in the morning and relaxed in camp during the afternoon.  The goats seemed to appreciate the break and slept most of the afternoon.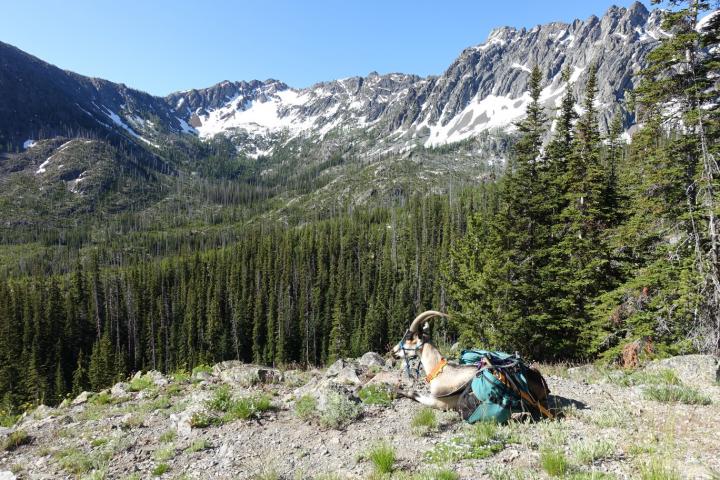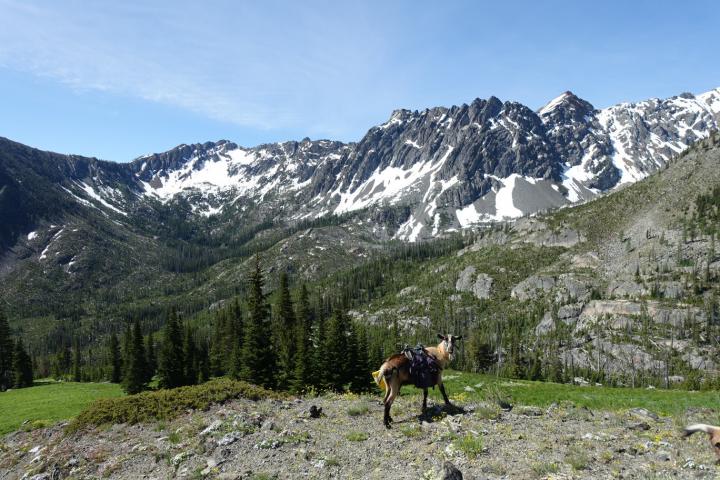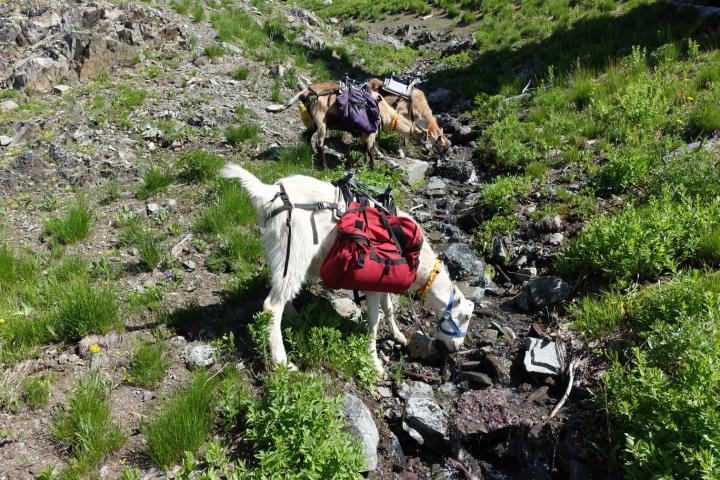 We headed back out to the trailhead on Friday.
Coming back out, I thought the goats would all walk across the North Fork Wolf creek foot log since that end is level with the ground.  Grant, Albert, and Bryce walked right across the log.  Benson was nervous about walking the log, so he headed down the bank and forded the stream again. 
We met a few other people on both hikes, but not many.  Coming back out Wolf creek trail, as we neared the TH, we passed several groups of people, some with dogs who made Bryce and Benson nervous.
Overall, good hikes and the goats generally did quite well.