It's been a couple of weeks and I need to catch everyone up on all the exciting things going on here at Goat-O-Rama! Memorial day was certainly memorable. It was our first experience kidding out two does at once. I prefer when they kid one at a time so we can savor each one, but there is also something to be said for expediency. 
Sadie was the first to pop despite not looking anywhere near close. Sadie and Coral were both due on the same day, but Sadie looked as though she could hold out for a month while Coral was was huge and had looked ready to pop since early May. I was sure Coral was carrying triplets and would kid a couple of days early, but she kept holding out. Tigerlily was also looking pretty ripe and I was sure both of them would kid before Sadie. In fact, on Monday afternoon I locked Coral up in the kidding shed so I could keep an eye on her. She had separated herself from the herd and was nesting. I felt sure she would kid before dinnertime. 
I saw on the camera that Coral was starting to push so I headed out with the kidding box. When I got outside, Sadie was not with the herd. I found her lying down in a nest Coral had made earlier that day under a cedar tree behind the house, and her water had just broken. If I'd gone straight to Coral without first looking for Sadie I'd have missed her! I got her up and took her down the hill to some clean grass while Phil fetched the kidding box. A few minutes later, out popped a big black doeling! She was all of 10 lbs. and I couldn't figure out where Sadie had been hiding that much baby. I was expecting a little half-sized ball of fluff weighing 5 lbs. soaking wet.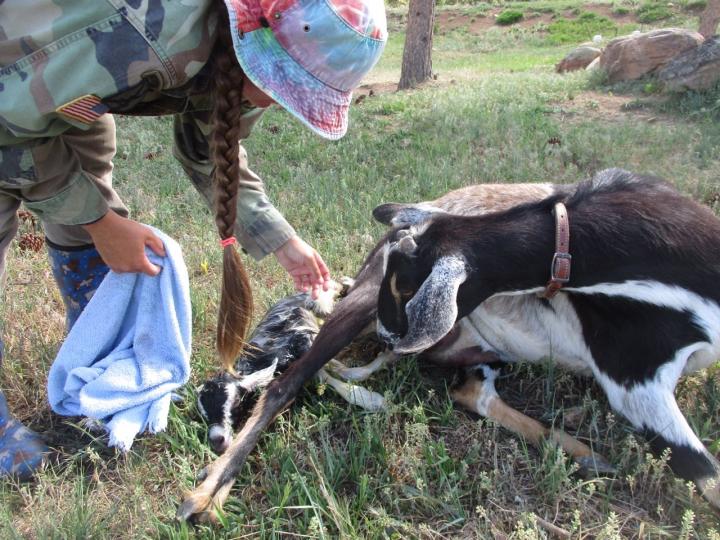 While Sadie was busy pushing her kid out into the world, I ran over and fetched Coral out of her shed so she could kid on the clean grass in the sunshine and fresh air--always preferable to a stuffy goat shed that I have to clean out afterwards! I also wanted to be able to keep an eye on both does at once. The downside to this was that Coral saw Sadie's new baby wriggling on the ground and immediately stopped her own labor and rushed over to help clean the new kid. Sadie didn't mind in the least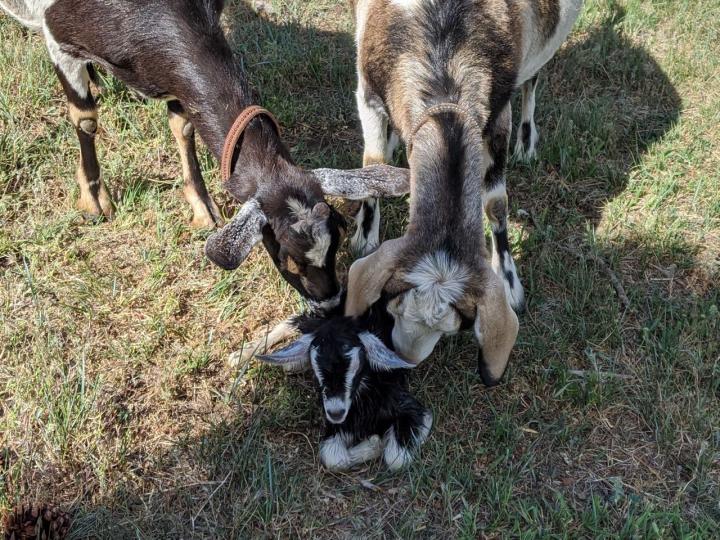 In fact, Sadie was proud to show her new kid off to every gawker who happened to wander by.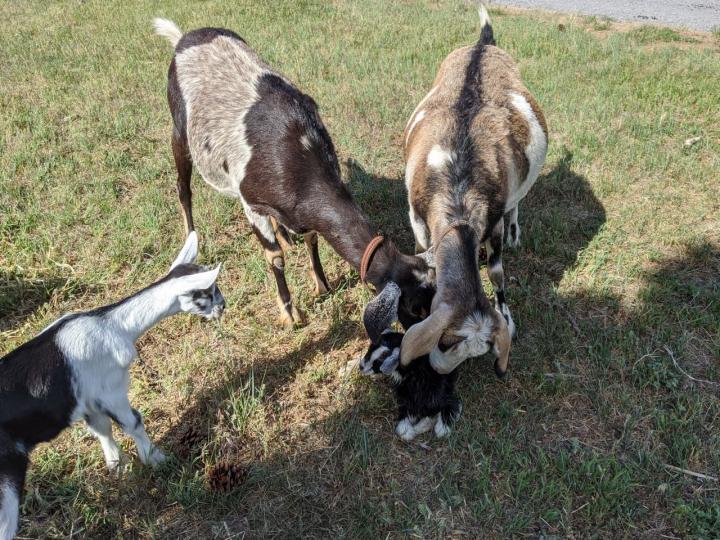 It was adorable and I took a couple of minutes to photograph the situation, but I could see problems arising. First of all, Coral had her own business to attend to which she was now thoroughly distracted from. Secondly, this kid would soon be up nursing and it would be confused about which mama to go to. And finally, Coral would probably try to take possession of Sadie's kid if I didn't intervene, and then we'd have an epic mama battle on our hands. So as cute as it was, I had to drag a protesting Coral away from the new baby and put her in the field on the opposite side of the driveway where she could start concentrating on her own family.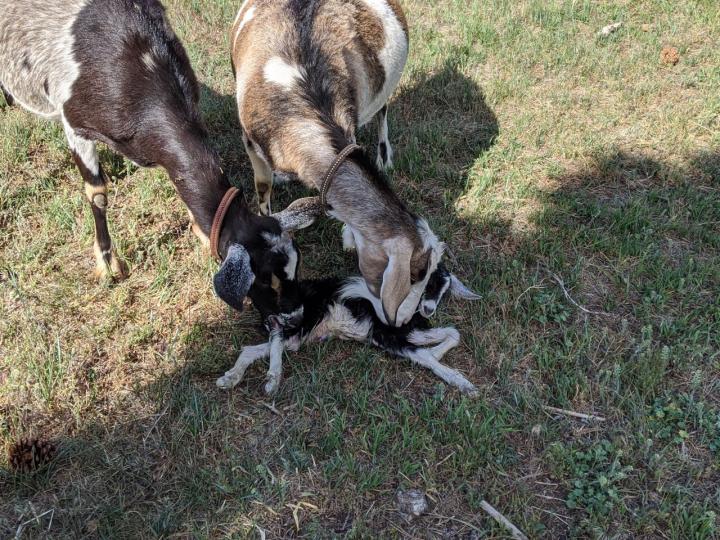 Sadie was enamored with her beautiful daughter. She is a striking Sundgau--jet black with snow white markings and a tiny whorl of white hairs in the middle of her back. I named her Sunflower because her coloring reminds me of a sunflower seed.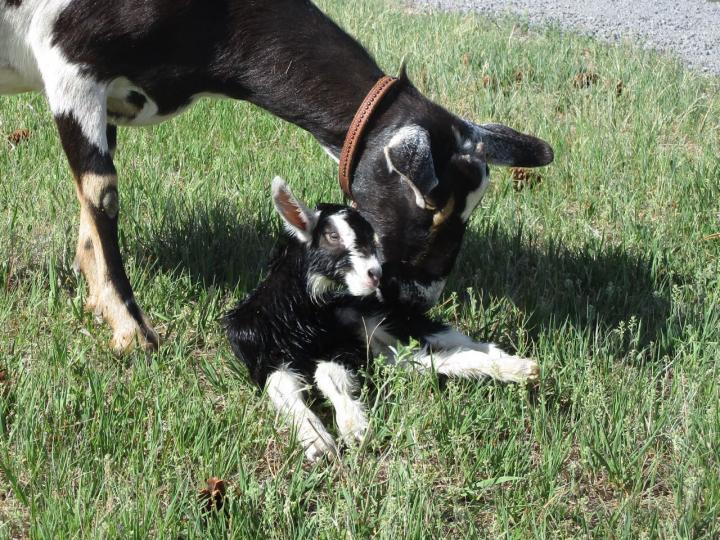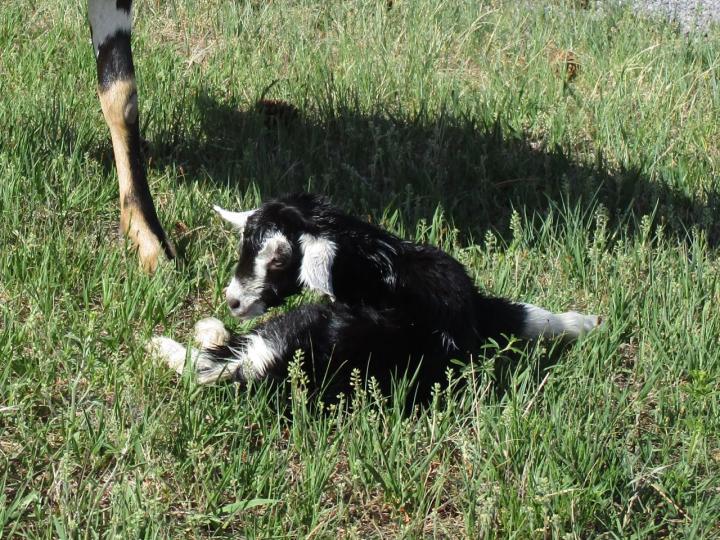 Oops! Looks like Mama got a little carried away with the licking!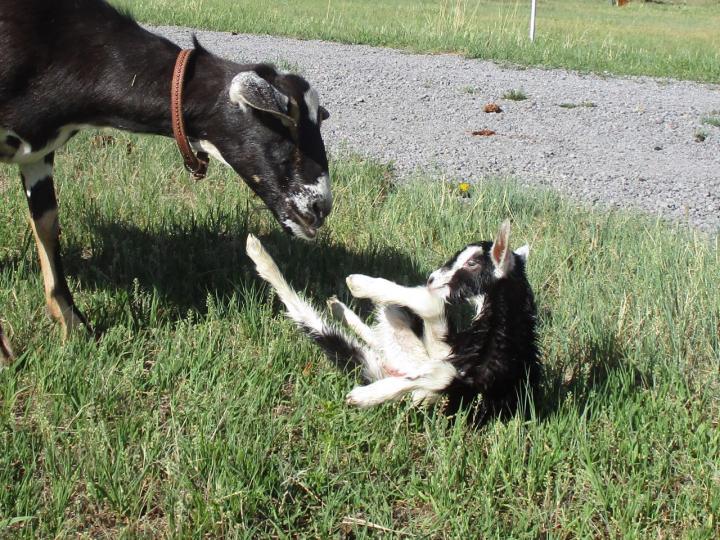 Sunflower was up on her legs almost instantly and started running all over the field before she even bothered to get her first drink. I could tell this was going to be a lively one!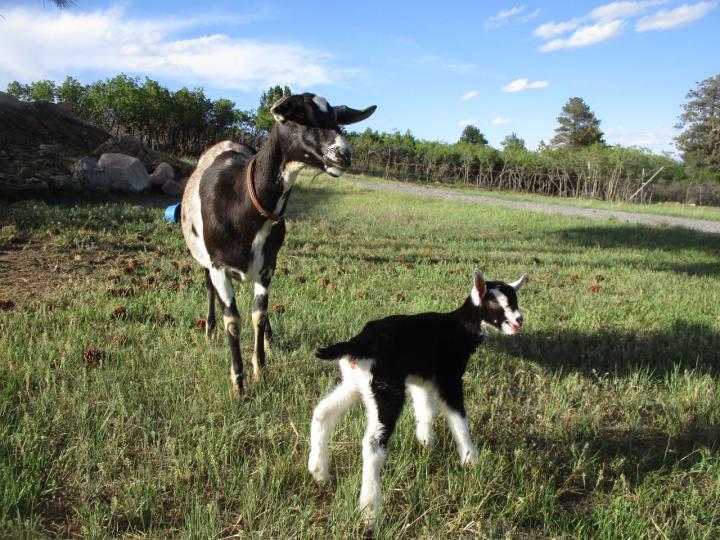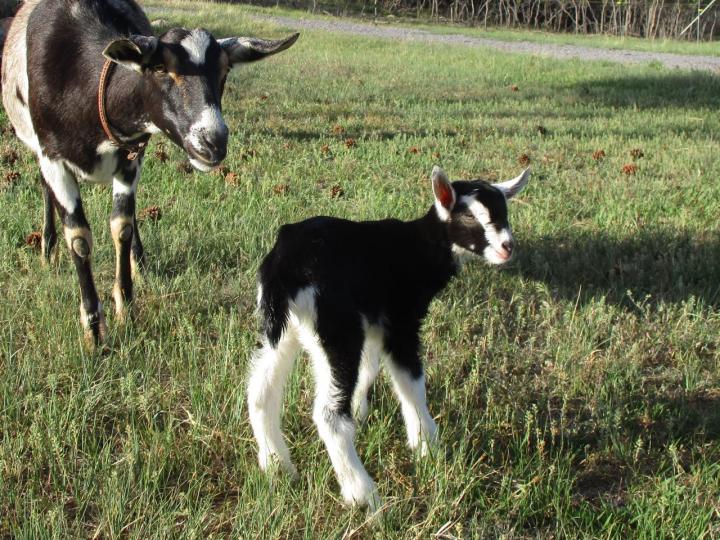 Once again, Diana brought Emma over to greet the new babies.