I'm bringing Mattox Goats Hershey to the Rendy and he will be for sale for $225. He is currently 10 weeks old (born March 21st) and hasn't been wethered yet (will be wethered June 15th unless someone buys him first and wants to wait to wether him). I'll be adding some photos of him at 2 weeks old and today at 10 weeks old. He looks black and white in a lot of the cell phone photos but is is actually chocolate and a very light cream color. Thus his name "Hershey." Hershey is disbudded and is UTD on all vaccinations and worming and comes from a CAE/CL negative herd. His dam died 2 days after he was born so he was bottled raised then transitioned to the lambar (he'll be weaned at 12 weeks old). Hershey is super friendly and is built like a brick %$*%-house. The photo of him lying down shows how wide he is in the chest. He has gorgeous bone and is long bodied. We measured his sire today at 36" and about 200# at 3 years old. His dam was a first freshener, medium boned, 34" and about 170#. Hershey should make an excellent packgoat.
Hershey at 2 weeks old.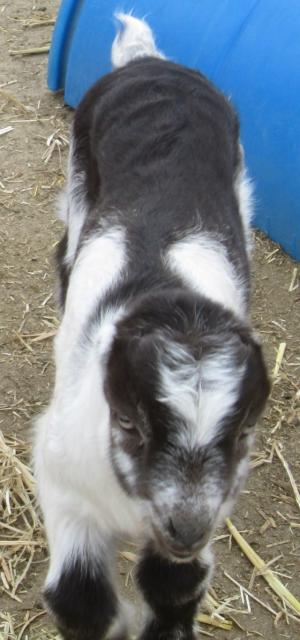 ---
For some reason I can't get the photos I took today of Hershey at 10 weeks old to load. I'll keep trying.

---
The photo of Hershey lying down was taken today at 10 weeks old. Look at that breadth of chest! Here are some more photos (I hope!)

Hershey at 10 weeks 2.JPG
(Size: 53.61 KB / Downloads: 89)

Hershey at 10 weeks.JPG
(Size: 81.69 KB / Downloads: 92)

Hershey at 10 weeks 5.jpg
(Size: 23.4 KB / Downloads: 92)
Goatberries Happen!