Baby is doing great.  I'm SURE he's not spoiled!

He has a playpen in the living room and sleeps in a tub in my room at night.  The weather has been really nice so I've been sitting outside a lot while he explores or just sleeps in the sun.  He already loves to climb on the rocks in our landscaping.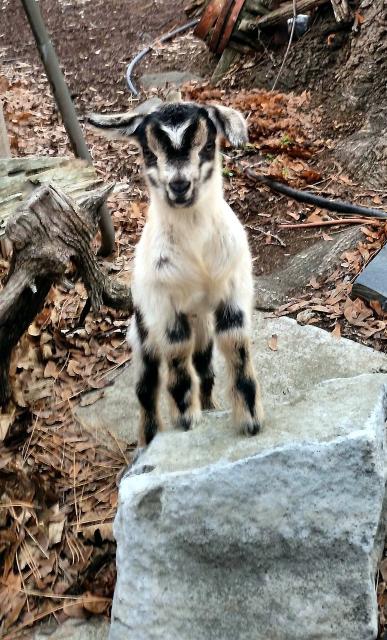 One of his ears has come back up from Sugar "licking them into submission."  She was an awesome and attentive Momma.
Our bottle feeding routine is every 2 hours except for two 4 hour stretches at night.  I take him outside to potty just before feeding him.  Knock on wood he hasn't had an accident in either the playpen or the tub!  Wouldn't it be great if he was house trained!
He knows when we come back in I give him a bottle.  When I feed him I always sit in one particular chair during the daytime.  He'll run in, jump up onto the chair and begin looking for his bottle!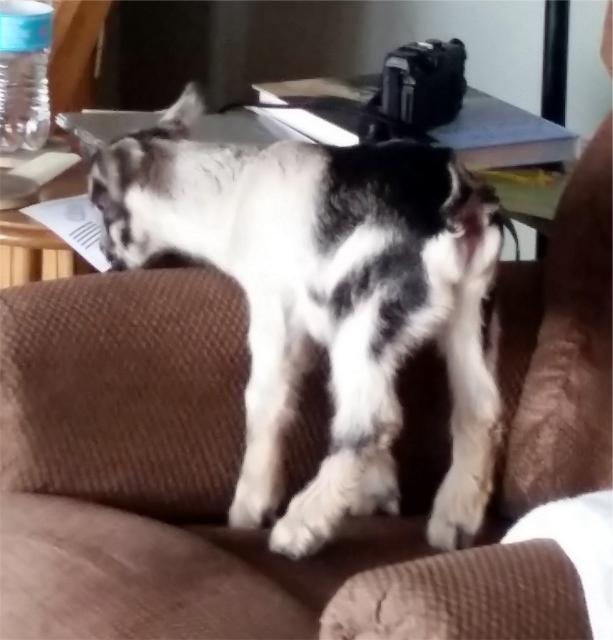 He's going to get used to riding in a truck.  I can't drive into town, do running around then get back home in 2 hours.  So far he sleeps while riding in the truck.
He still doesn't have a name.  I'd love to come up with something to honor Sugar (her registered name was Sageland SS Sugared Eclair).  Nothing has really come to mind yet so he gets called Goat.  Not very original!
Goatberries Happen!