Legion The Pack Goat
Such a gorgeous fella! I love the Pac-Man card and the goat attack picture!
12-17-2013, 09:44 PM (This post was last modified: 12-17-2013, 09:58 PM by Dave-Trinity-Farms.)

ya that was a cute play on "pack man" I thought.
I heard from the buyer of Fun Boy and Justice (pictured with Legion on the hood of the truck above). They were Legions pen mates until about 4 months ago. Thus the need to buy Lincoln. He is having a blast. A small quote from him "I never realized what I was missing out on until I got the boys." I miss em, they were such good boys and were much better at putting up with Legion then Lincoln is

Speaking of Fun Boy, here are some 2012 rendy pictures of him and Legion. Boys where around 5 months old. They were castrated shortly after we returned from the rendy.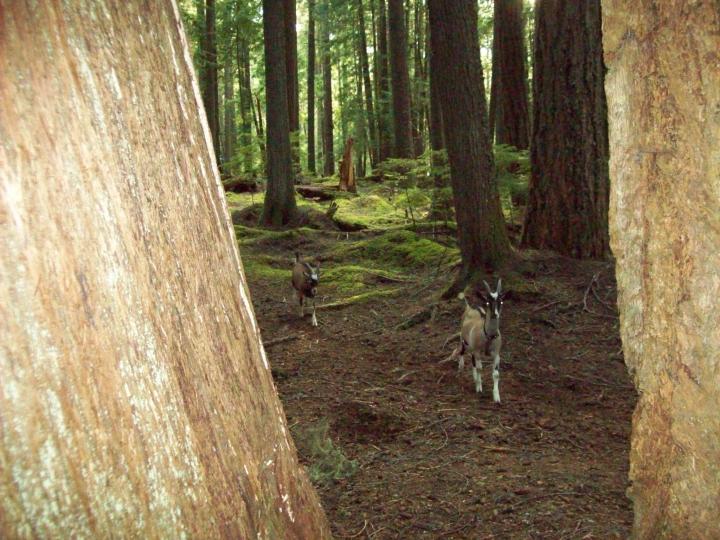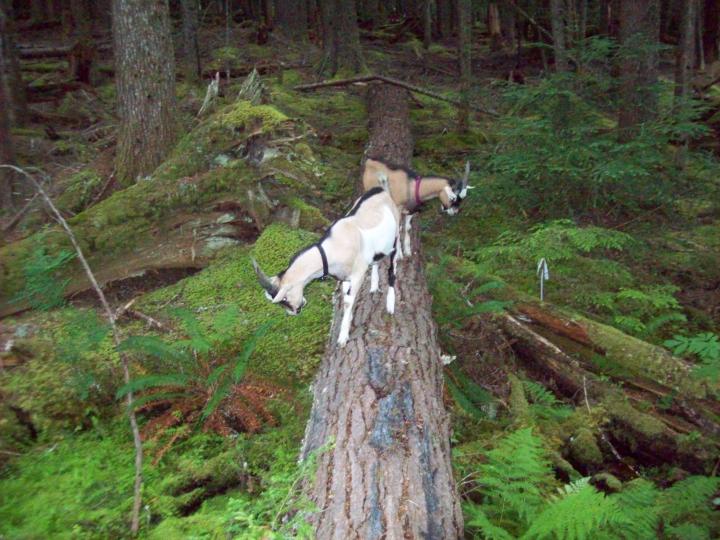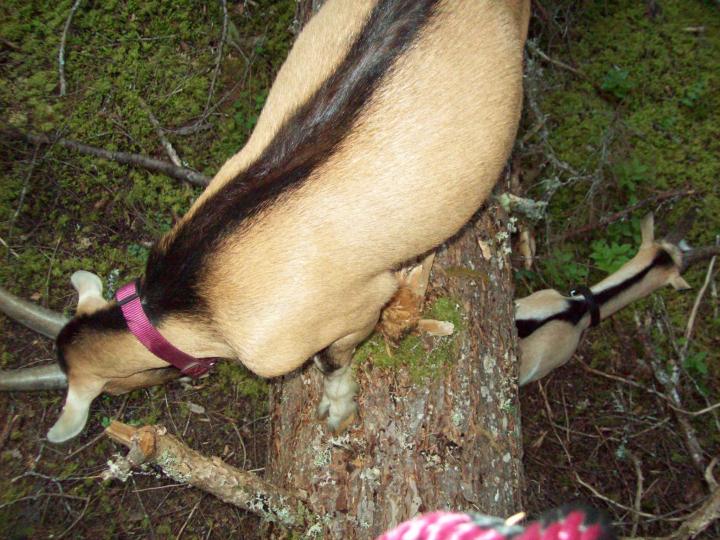 ---
A few more rendy pictures of the boys. They had a great time there. It was their first time seeing real trees

While out walking Legion found a shelter someone had built outta branches. Was pretty cool. He was kind enough to leave a deposit behind for the next would be occupant

Next you see Legion with his camo hat on

To this day he loves to wear his hay on his head. And the truck bed was were they slept. I cut a combo panel to fit just inside of the back of the bed. They didnt take to well to the high lining being in such a odd place and their first time away from home for longer then just a few hours. Just glad I anticipated it and had that panel piece.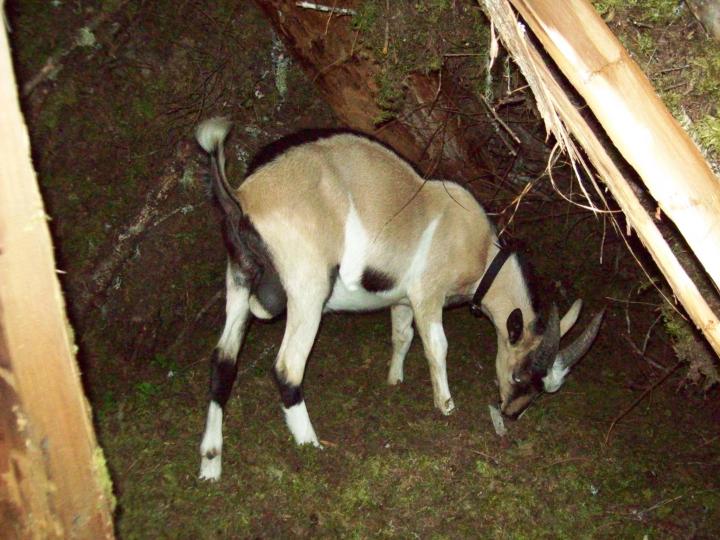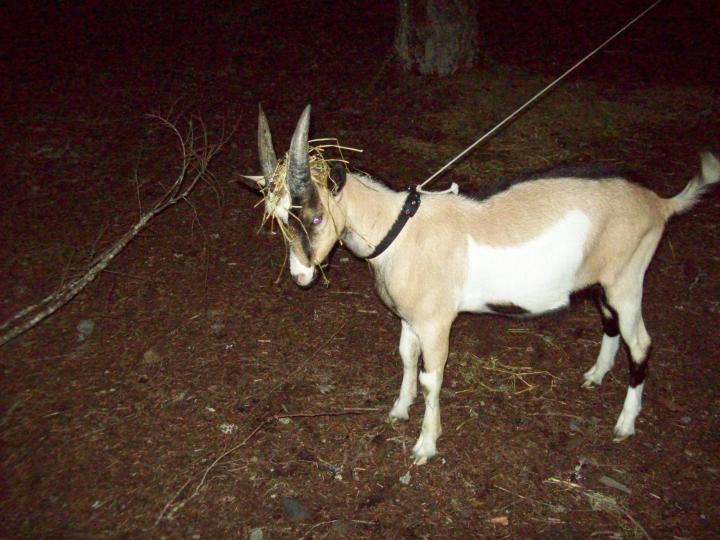 ---
And finally, pictures of the boys out on the trail. We did a 6 mile hike up to see some wild goaties. You cant seen unless you really zoom in. But the picture of Legion and Fun Boy with their heads down, there are wild goats on the ridge behind them.
Oh and yep, thats Curtis King and some of his pack string

. Tony N. was the one nice enough to take us on this hike. It was a blast!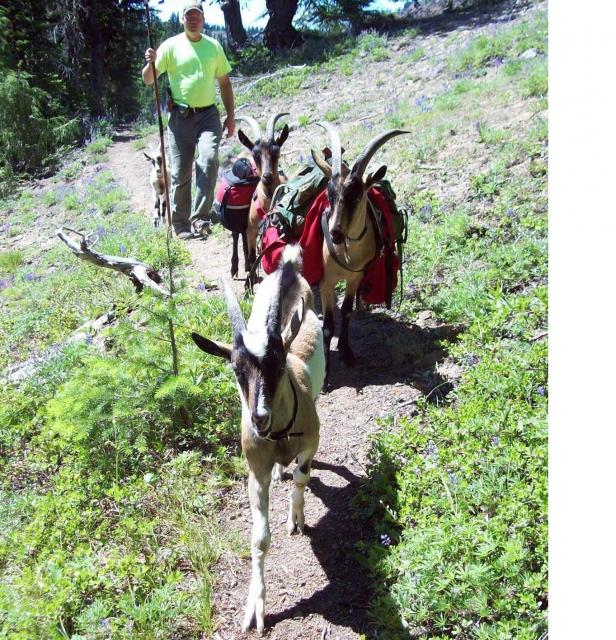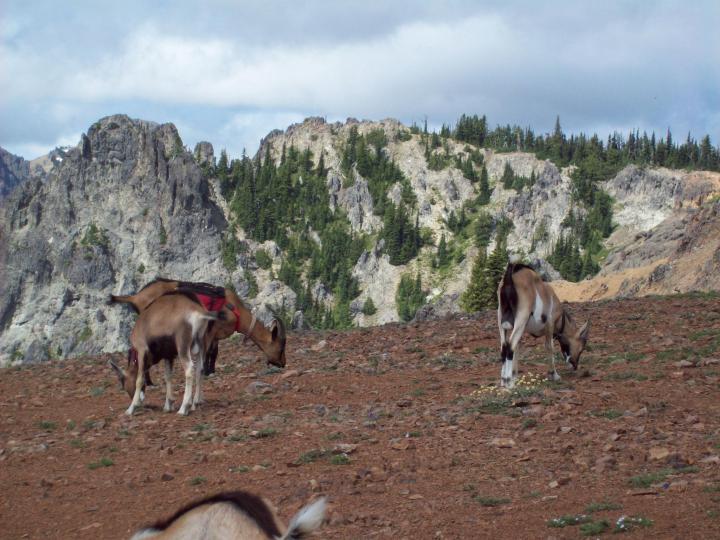 Legion sure is a stud! Very cool pics. I can't wait until I have pics to share too!
(12-17-2013, 06:10 PM)

Dave-Trinity-Farms Wrote: Here are some other early training pics. Water, dog pack training and a relaxing afternoon near the water. A little fishing for me, a little browsing for them The goat with Legion in the second and third picture is Darius who went to Saltlick in California. She calls him Django now The goat with Legion in the last picture is Fun Boy. He was Legions partner at the 2012 Rendy. They are about 4 months old in these pictures.

Django! I have to tell you, I'd buy another goat from you in a heartbeat if I had room for another one. Django is so gorgeous and so athletic. Here's Django today (literally, I just took this today on our walk out in the big field)





---

Thanks Kirk! Yours will be as well
*Saltlick*  Rancho Topaz   
near Topaz Lake, Nevada

Ah he is turning out to be so handsome

12-31-2013, 10:29 AM (This post was last modified: 12-31-2013, 10:35 AM by Dave-Trinity-Farms.)
A few pictures of Legion and Lincoln on one of our short walks. They have been cooped up in their winter pen and are getting a little barn sour. So before the spring comes (fishing and shed hunting) I wanna get em used to saddles and the trail. Was about 29 degrees, light wind and a touch of freezing rain. So we were not out to long. Need to adjust Legion saddle a bit, its to far forward. Its funny watching them get used to the saddles again.
Legion is an outstanding lookout. He can pick up movement from very far away. During this walk, 2 mid sized dogs were out in the scrub lands with us but at a good distance away. Legion picked them off right away and keep his eye on them the entire time.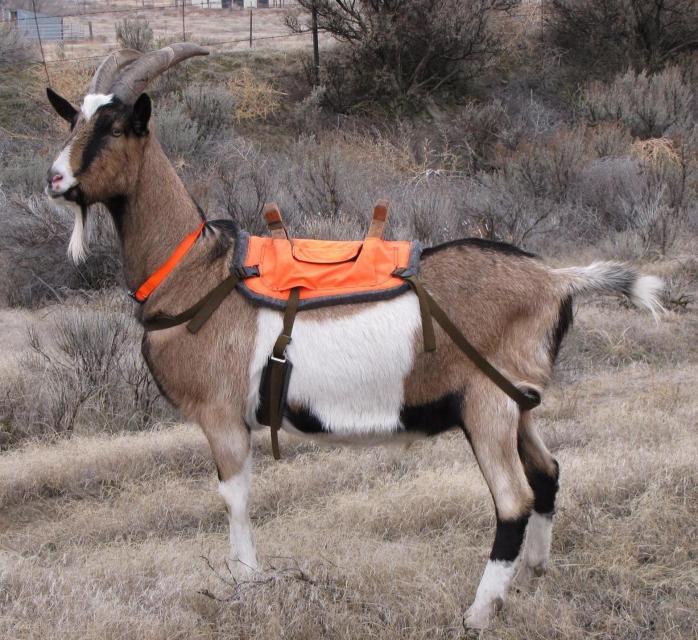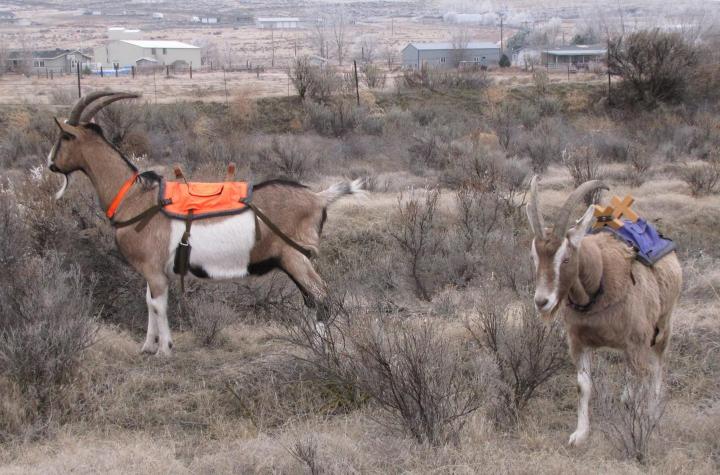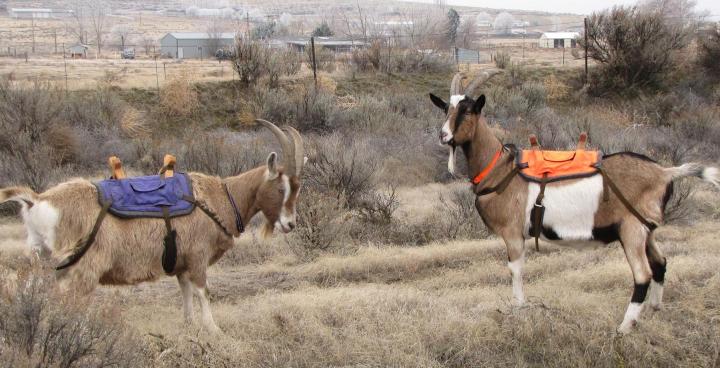 Nice looking boys! I love when the goats stand alert like that. They do it all the time at home and I've learned to tell if it's something to worry about or not based on their body language. Usually the Togg's are more alert than other breeds, that's the way it is with Moose, our Togg. Looks like Legion is pretty good at it though from the pic's.
He's such a flashy-looking goat, Dave! If you get any girls that look like him, let me know. I might be very interested!
Actually Alyssin (spelling?) Huckle has a near perfect identical match of Legion, Boots

Ill see if I cant find the video we made when we had her and him out together. The color patter was so close it was kinda freaky.
Users browsing this thread: 2 Guest(s)