Well I started a few threads for some of my individual goats, but maybe it would be easier to just have a herd thread to give updates on.  So my herd started with Thor and Pickles (Alpines) from Dave's farm which I have shared lots of pics of.  Later I picked up Teancum and Ginger (Obers) from Linda's farm in Moses Lake, doubling my herd to 4.  Pickles was bred to Linda's big Ober buck Earl, and Pickles had two big bucklings.  I kept the buckskin colored buckling (He was named Boone) for a future packer, and sold his ober looking brother to my sister in Olympia so now we have 5.  Although Thor and Boone were castrated, we kept Teancum for a breeding buck and he is awesome.  Teancum didn't stink too bad, and has remained good natured even in the rut.  I think he is going to be a big boy and he covered both Pickles and Ginger this year so I should have another crop of Alpine/Obers and some purebred Obers too.  We are very excited to see what Spring brings and I hope to develop a large, hard working, good natured string of packers soon. I have also just leveled and planted another 1/2 acre pasture to help rotate once I get the fence up this spring.  Enjoy the pics.
Pickles and Thor almost 3 years old
[img]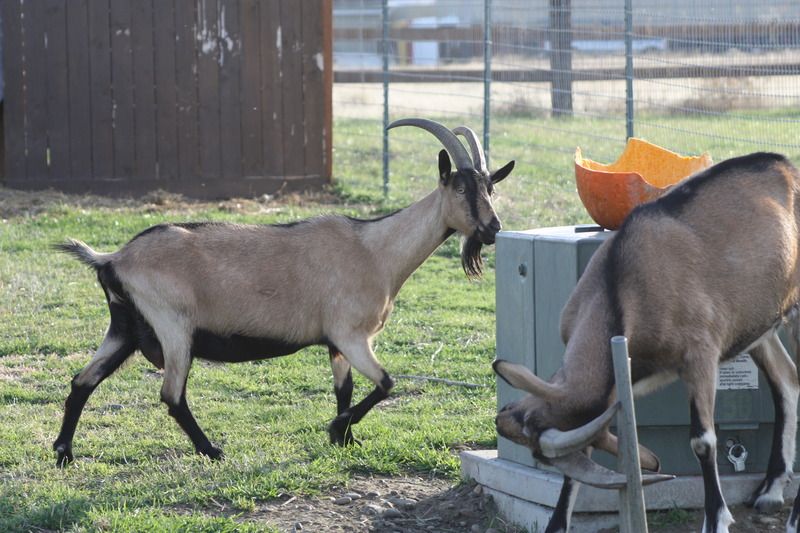 [/img]
Thor is getting big, I would love to get him on a scale!
[img]
[/img]
Teancum will be 8 months old in a couple of days.  He has a funny piece of hay hanging on his face.
[img]
[/img]
[img]
[/img]
[img]
[/img]
Ginger is a darker/redder colored ober, and is so nice.
[img]
[/img]