After our surreal experience at the Cosmos Mystery Area, Phil and I headed north toward Nemo, SD where we'd booked a stay at the Normarke Farms B & B. As soon as we got there we knew we'd picked the right place. It is a big, lovely log home on 80+ acres surrounded on both sides by Forest Service land. The hosts, Jon and Diane Van Patten, were absolutely wonderful. They were intrigued by our goats and allowed us to put them inside the old garden enclosure. It hadn't been planted for a couple of seasons and had mostly gone to weeds so there was plenty for the goats chow down on. It had a 6-foot high fence around it to keep deer out, which was perfect for keeping goats in! There was no shelter so the boys still had to go inside their trailer at night, but it was great to be able to let them into the garden for a couple of hours every morning and evening. 
The lodge was incredible and we slept well each night and awoke every morning to a wonderful breakfast. Diane is a very gifted chef! 
We got up Monday morning excited to strike off on our first hike. It was a little rainy but the forecast said it wouldn't be too serious so we loaded up the boys and headed out.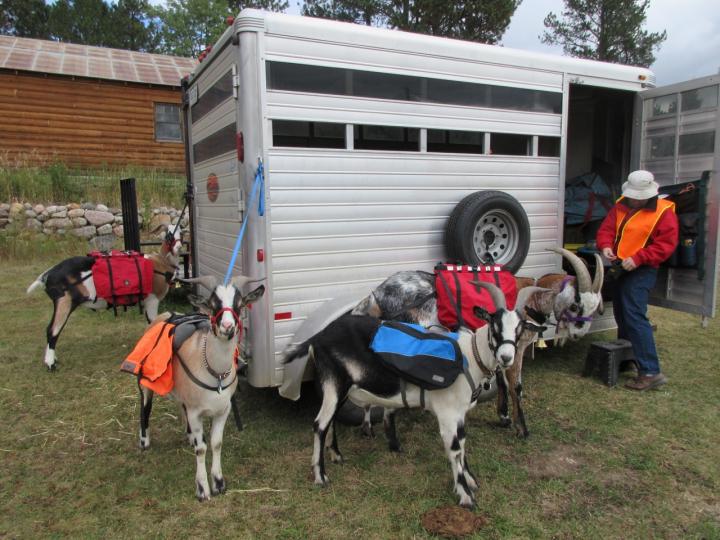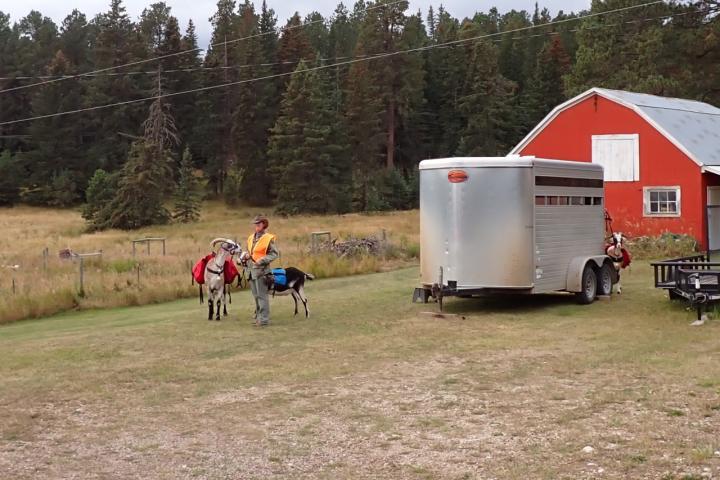 We walked about 1/4 mile up the road to the trailhead, which was just about the time the mist in the air turned into a fine drizzle. A few minutes later the drizzle became rain. We unpacked our umbrellas and marched straight back to the lodge!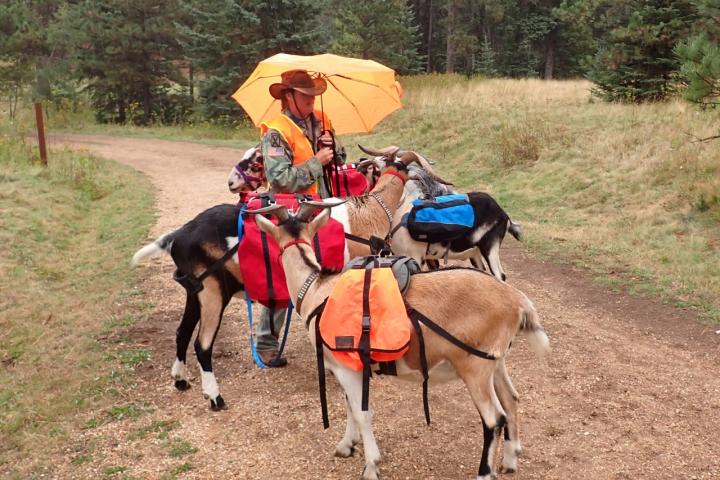 We unloaded the wet packs and threw the boys back into their trailer with some fresh hay. They seemed very happy not to be tromping around in a rainstorm. 
Phil and I weren't sure what to do so we drove down the road to explore from the comfort of our dry, heated truck. We scoped out the little town of Nemo and then, because there were just way too many billboards to ignore, we decided to go ahead and waste our money on a Wonderland Cave tour. As far as caves go, this is one of the more disappointing ones we've seen, but our tour guide was fun and she had a couple of good stories, like the one about the lady who stole the cave's famous "poodle" rock. The thing must weigh about 50 lbs. The thief put it in her purse and tried to walk out with it. She might have succeeded except that she collapsed from exhaustion while attempting to climb the long, steep staircase with her stolen load.
The only thing I stole was a glance at the camera.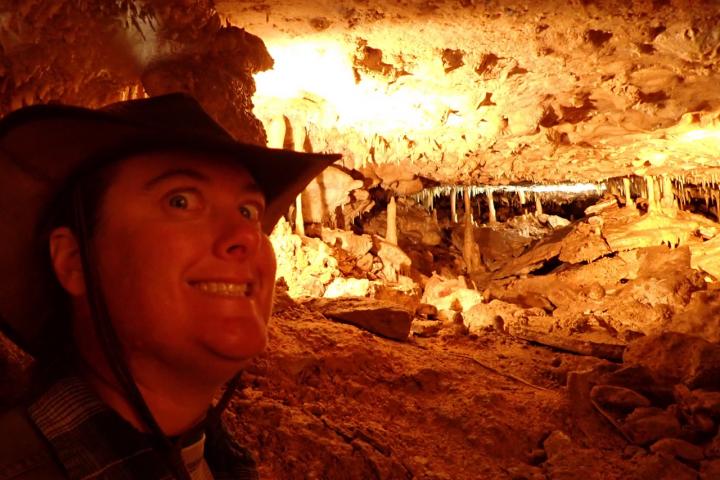 There was also this weird little alien dude hiding behind some stalactites.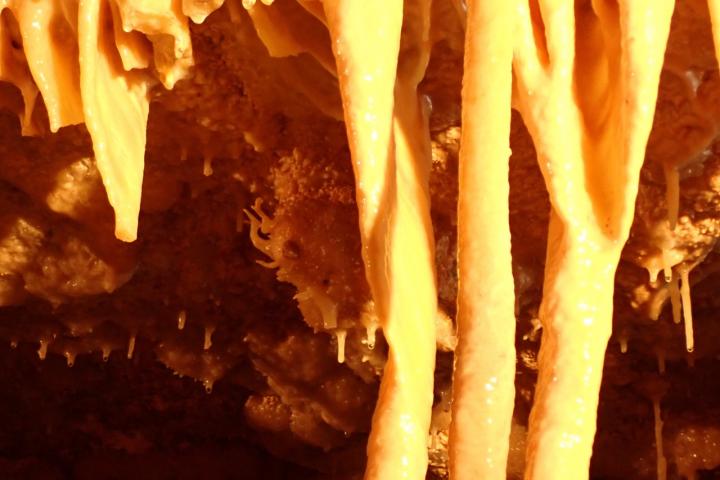 This ladybug grill was pretty cool.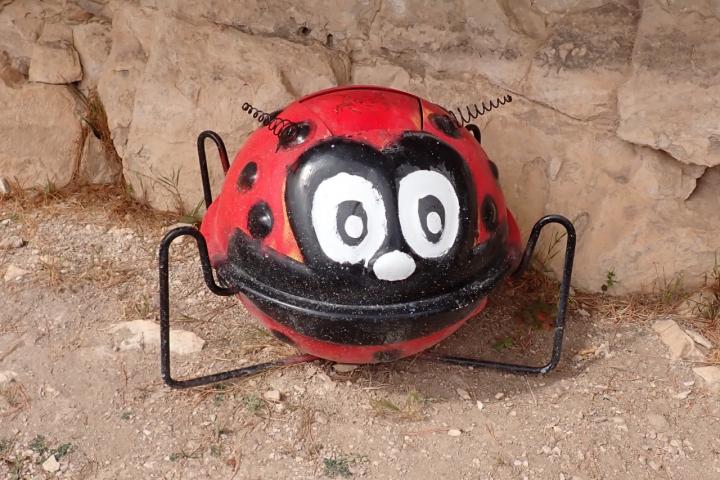 After Wonderland Cave we headed toward Sturgis just to see what it looks like when empty. There are a LOT of enormous motorcycle bars on the main drag. It looked a little too commercial for my taste. On our way out we saw a huge building that said "Car Museum" on the front. Phil and I love classic cars so we pulled in. 
Turned out it was not just a car museum. Specifically, it was a Saab museum. But since no one wants to look at Saabs they don't advertise this little detail until after you pay at the front desk. Yeah, it was a bit of bait-and-switch, but I'm glad because otherwise we would never have gone there and it turned out to be interesting after all. I learned a lot of stuff I didn't know I wanted to learn about Saabs. There's not a whole lot of variety. Saab produced a total of about five body styles in all its decades in business. There was a whole warehouse full of cars that mostly looked alike with a few oddball exceptions. The best part of the tour was the host. Phil and I were the only customers there at the time so we got the royal treatment from the proprietor. He gave us a full personal tour and told us lots of great stories about lots of the cars. 
There were several race cars in the museum. We took turns sitting in one.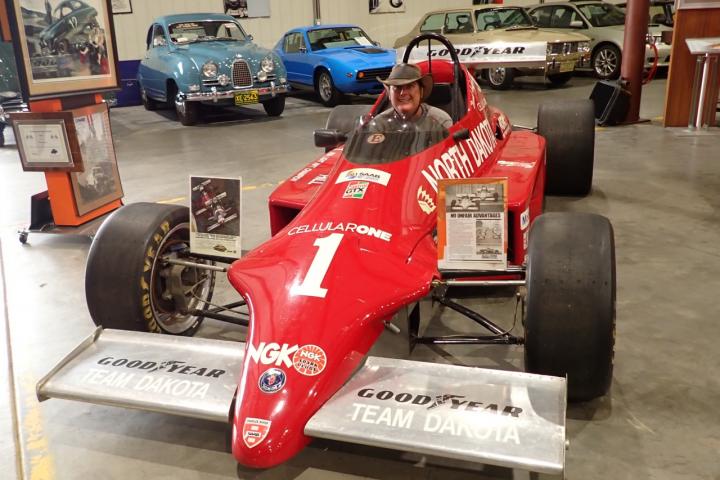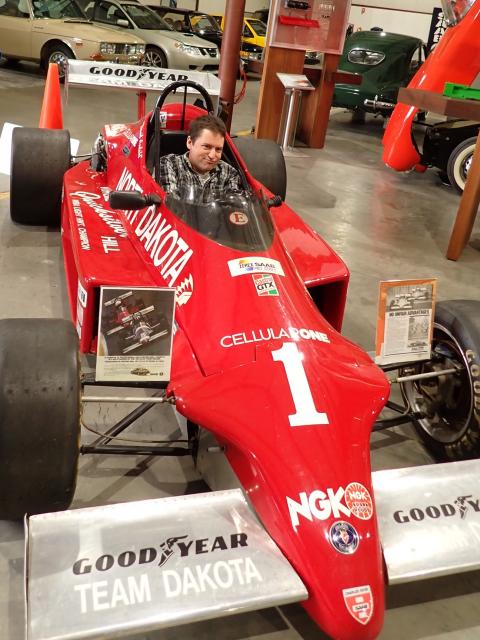 It was a tight squeeze to get in and out!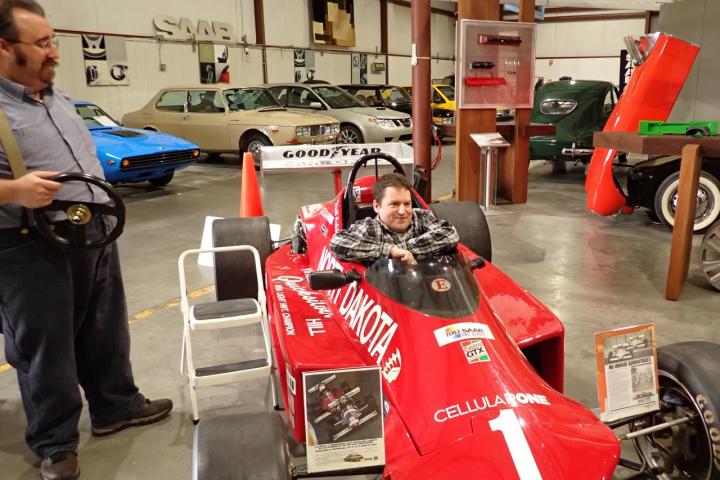 There was also this huge old fire truck which was not a Saab but it had cool lights and a very loud siren. Phil climbed up and pushed the buttons to make the lights and noise go.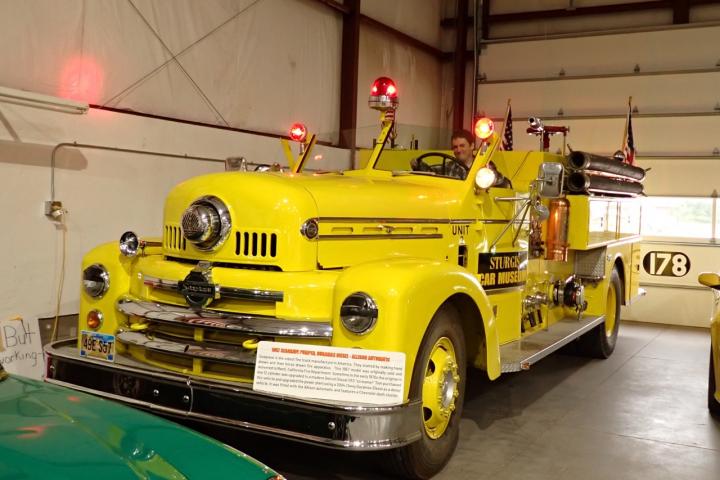 Turned out we were wise to cut out the hiking and stay indoors (and even underground!) that day. It rained all day long, and sometimes it downright poured. The goats were happy tucked up in their warm, dry trailer with bags of hay to keep them company.